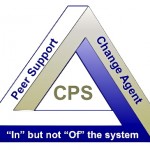 Updated 8.27.2018
The Fall 2018 Certified Peer Specialist Class.
What is Peer Support?
"Peer Support" is a relationship between people with similar experiences.  It is a mutually valuable exchange of hope, encouragement, connection, understanding, information and/or assistance.  "I've been there" is one of the most validating and useful things a person can say or hear.
In the mental health recovery movement, peer support relationships are among people who have experienced emotional distress, a mental health diagnosis and/or trauma.
The Certified Peer Specialist (CPS) Training
This is a rigorous training for people preparing for a Certified Peer Specialist (CPS) role in the community or service system.  CPS is not an entry-level position and the training is designed for people who have some knowledge and experience with peer support.
A CPS has been trained to share their experiences of mental health recovery, services and supports and to carry the message that Recovery is Real!   In sharing our wisdom, strength and hope with others (including people using services, mental health professionals and policy makers) CPSs can significantly impact peoples' beliefs about their own capacity to recover and the capacity of others to recover.
The CPS program includes classes that covers 24+ modules, small group activities and homework.  The program supports students to inspire hope in people they support and work with.  After completing the class,  students are eligible to take a written examination for the CPS Certificate.  Students demonstrate a host of abilities that are necessary in the Certified Peer Specialist's role, including:
The Three Core Competencies:  Peer Support, "In" but not "Of" the System, Change Agent
The Shoulders Upon Which We Stand
Human Experience Language
Principles of Adult Learning
Cross-Cultural Partnering
Fear: Friend or Foe
Group Facilitation and Self-Help Tools
Power, Conflict and Integrity
Creating the Life One Wants
Do I need to be trained as a CPS to give Peer Support?
No!  Peer relationships change lives and foster recovery anywhere that people seek and give support based on shared experiences. There are far more opportunities and places to offer peer support than there are paid roles for Certified Peer Specialists.  Peer support happens informally and in paid and volunteer roles that do not require CPS training and certification.  It is expected that people applying for the CPS training have some experience giving and receiving support in peer relationships.
Peer support trainings of many kinds are offered by a variety of organizations for people with or without experience with peer support.  Many provide a certificate of completion or offer their own certification program, for example the Wellness Recovery Action Plan (WRAP) Facilitator training.   Regional Recovery Learning Communities (RLCs) can tell you about peer support opportunities that do not require CPS.
CPS Code of Ethics
As part of their training, Certified Peer Specialists (CPSs) commit to peer support and collegial relationships that are guided by the Massachusetts CPS Code of Ethics (updated 2015).   Putting these 14 principles into practice is vital to protecting the mutuality of relationships and the integrity of the CPS role. The CPS Code of Ethics is particularly useful for working in programs that are based on a medical model of care. Other members of the peer support workforce may also use the CPS Code of Ethics to guide their work, including volunteers, Young Adult Mentors and Peer Facilitators.
Preparing for CPS Training
Tools to help you focus and assess your skills in one-to-one peer support, sharing your story to inspire hope and being an agent for change (click on the links below):
CPS Supervisor Resources
Retesting & Tutoring
If you wish to retake the CPS exam or schedule individual tutoring to prepare for retaking the exam please email.
Recent Classes
Winter 2018 – Bedford VA Hospital, Bedford – completed March 15, 2018
Fall 2017 – KIVA Center, Central Mass RLC, Worcester – completed Nov. 16, 2017
Spring 2017 – VINFEN Training Center, Somerville – completed Jun 2, 2017
Winter 2017 – Cape Point Hotel, W. Yarmouth – completed Feb 17, 2017
Fall 2016 – Holyoke Community College, Holyoke – completed Nov 16, 2016
Spring 2016 – Easton – completed May, 2016
Winter 2016 – Lexington – completed Jun, 2016
Fall 2015 – KIVA Center, Central MA RLC, Worcester – completed Nov 16, 2015  
Policy Manual
All the policies related to the CPS class, including the application process, acceptance process, class design and testing, are described in the manual.
Oversight Committee
The CPS Oversight Committee advises the CPS Training Program Coordinator regarding all aspects of the program, including curriculum, training and testing processes, policy and procedures, program evaluation, and meeting the needs of the community.
Membership is made up of people with expertise in education, research, testing, hiring and integrating Certified Peer Specialists into the public mental health system, CPS practitioners and persons with lived experience who are not CPS.
Oversight Committee Members June 2017
Minutes:
September no meeting
July no meeting